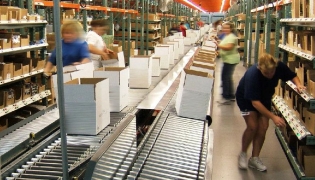 Pick Modules are engineered racking systems that integrate different storage solutions inside multi-level work platforms that move product efficiently through a distribution facility.
Most Pick Modules are single or multi-level order selection rack systems and are often the ideal solution for distribution centers that require order picking geared to high SKU traffic, high throughput, and significant expansion capabilities.
Pick modules will increase product accessibility and facilitate SKU rotation, maximize distribution center floor space and store and pick everything from single pieces to full pallets in one integrated system.